What can you expect with shipping internationally?
We have listed all points of interest regarding (inter) national shipping for you. We recommend that you read this information carefully via the buttons below to avoid any surprises.
1. In order to be able to demonstrate that your package has been properly packaged in the event of damage or loss, we recommend taking photos during the packing process. Therefore, take pictures of at least the inner and outer packaging that also show the product you want to ship.

In the event of damage, the insurance will also check whether you have packed the shipment properly. Therefore, make sure that you have packed the packaging according to the packaging guidelines. Read the packaging guidelines here.

2. You must be able to demonstrate that the specified value is correct by means of, for example, a purchase invoice. Also, you cannot claim more than the amount you specified when booking.

3. You insure your shipment against theft, damage and loss. Please note that you have submitted a claim for damages to us within 8 working days after the delivery of your shipment. After these 8 working days, we can unfortunately no longer submit the claim.
Delivery times are on working days and always subject to, for example, holidays, rural areas, weather conditions and customs processes. If your shipment is transported to a destination outside the European Union, your shipment will be cleared by local customs. This can sometimes take a few days because customs have to follow various formalities so that the carrier can ultimately deliver your shipment. Customs is a government agency over which we, unfortunately, cannot influence.

Experience shows that approximately 90% of shipments are delivered within the set delivery time. We believe it is important to be transparent in this and to communicate this information with you, because we understand how important your shipment is to you. If you would like to know more about delivery times, please contact us.
Print all the shipping documents in the attachment and place the paperwork on your shipment. The courier almost always has a slip cover with him to confirm the paperwork on your shipment. Hand over your shipment with the shipping documents to the courier at your chosen pick-up time. If you want to change the pick-up date or times, please contact .
Print all the shipping documents in the attachment and place the paperwork on your shipment. Hand in your shipment with the shipping documentation at a drop-off point. Please note, not every carrier has drop-off points. View all drop-off points at this page .
If you register the shipment via ParcelParcel, you can track your shipment 24/7 via the orange tracking button in our confirmation email. Please note, it can take up to 24 hours for you to be traceable, calculated from the moment your shipment is picked up.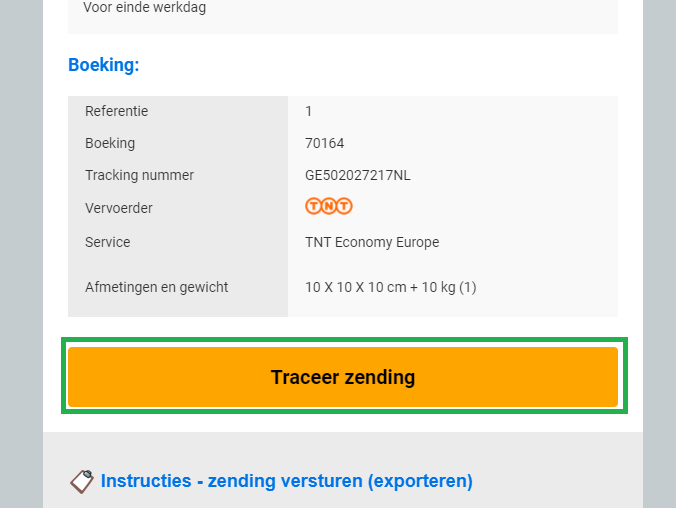 Please note, import duties may be levied at customs (government agency) in the destination country when your shipment is shipped from / to a country outside the European Union. These additional costs are by default passed on to the recipient and determined by the local customs. This is outside our service provision and we have no influence on it. Read more information here .

For shipments that remain within the European Union, no import duties are levied because your shipment does not pass customs. Document shipments are also not subject to customs duties, which means that no import duties will be levied.
When your shipment has been delivered, we will send you another email notification! This e-mail also states who signed for the shipment.

Are you sending a shipment with DSV? Please check our points of attention page for DSV-shipments.